Osphena® safety and efficacy have been confirmed by multiple clinical trials:1,2
Largest population of postmenopausal women with vaginal dryness and dyspareunia (n=2,209)1,2
Ten phase 2/3 trials1
Long-term safety data up to 52 weeks in duration1

847 postmenopausal women were studied for up to 52 weeks in safety studies.

Unlike clinical trials involving estrogen-based products, Osphena® clinical trials were performed without adding a progestin, either in women with or without an intact uterus.1,3
Osphena®'s safety information contains a Boxed Warning regarding endometrial cancer and cardiovascular disorders.
Important safety information: Common side effects and contraindications1
Common side effects may include:1
Hot flashes
Vaginal discharge
Muscle spasms
Hyperhidrosis
Night sweats
Headaches
Vaginal hemorrhage
Osphena® is contraindicated in patients with:1
Undiagnosed abnormal genital bleeding
Known or suspected estrogen-dependent neoplasia
Active deep vein thrombosis (DVT), pulmonary embolism (PE), or a history of these conditions
Active arterial thromboembolic disease (for example, stroke and myocardial infarction [MI]), or a history of these conditions
Hypersensitivity (for example, angioedema, urticaria, rash, pruritus) to Osphena® or any of its ingredients
Known or suspected pregnancy
Osphena® should be prescribed for the shortest duration consistent with treatment goals and risks for the individual woman. Adequate diagnostic measures, including directed and random endometrial sampling when indicated, should be undertaken to rule out malignancy in postmenopausal women with undiagnosed persistent or recurring abnormal genital bleeding.
Osphena® Safety Profile
Breast safety considerations2,3
Phase 2/3 clinical studies of Osphena® 60 mg, which included postmenopausal women (aged 40-80 years) with VVA.2,3
Patients had to have a normal clinical breast examination at screening.*
Patients underwent a full breast examination at screening and had follow-up assessments at 12 weeks, 6 months, and 12 months.
These studies demonstrated the following:2,3,5
No clinically significant mammographic changes in Osphena®-treated patients.
A decrease in abnormal breast palpation findings from baseline to 52 weeks:

Osphena®: 2.8% at baseline (N=1102) vs. 0.8% at 52 weeks (N=354)
Placebo: 2.3% at baseline (N=821) vs. 0% at 52 weeks (N=90).

A low rate of breast-related treatment-related adverse events (2.1% Osphena® [33/1559] vs. 1.6% placebo [21/1268]).
No cases of breast cancer in the Osphena® group (0% vs. 0.2% [2/1268] placebo†).
Osphena® has not been adequately studied in women with breast cancer, therefore, it should not be used in women with known or suspected breast cancer.
*Obtained at screening or within 9 months prior to randomization.
†Including one case of breast cancer, in situ.
Cardiovascular (CV) data1
In clinical trials, less than 1% of patients experienced treatment-related CV events.1
Phase 2/3 clinical studies of Osphena® 60 mg, which included postmenopausal women (aged 40–80 years) with VVA, demonstrated the following:1,5,6
Endometrial data
The safety of Osphena® has been assessed in ten phase 2/3 trials (N=2209) with doses ranging from 5 to 90 mg per day. The duration of treatment in these studies ranged from 6 weeks to 15 months. The majority of women (N=1683) had treatment exposure up to 12 weeks; 847 had up to 52 weeks (1 year) of exposure of study medication.1,2
Osphena® is a SERM, not an estrogen1,5,7
What are SERMs?
SERMs, or selective estrogen-receptor modulators, are a well-established class of synthetic compounds that mimic estrogen effects in some tissues and inhibit estrogen effects in others.1,7
Osphena® is an estrogen receptor agonist/antagonist with tissue selective effects. Its biological actions are mediated through binding to estrogen receptors. This binding results in activation of estrogenic pathways in some tissues (agonism) and blockade of estrogenic pathways in others (antagonism).1,7
Osphena® binds to estrogen receptors but is not a hormone1,4,5
Acts selectively as an estrogen receptor agonist on the vagina.*,1,4,8
Taken orally, distributed systemically, but active locally as a function of its characteristic tissue selectivity.4,8
*Increases superficial cells, decreases parabasal cells and reduces pH.1
Watch the Osphena® Mechanism of Action video to learn about the pathophysiology of post-menopausal vulvovaginal atrophy (VVA) with emphasis on two common symptoms, and how Osphena®, a Selective Estrogen Receptor Modulator (SERM), works locally in vaginal tissue to treat moderate to severe vaginal dryness and dyspareunia due to menopause.
Talk to your patients about a once daily non-hormonal oral tablet1
Osphena® is easy to prescribe and easy for patients to take.1
Osphena®
is a convenient,
once-daily medication
that fits patients' busy
lives and does not disrupt
intimate moments.1,9
| | | | |
| --- | --- | --- | --- |
| One 60 mg pill1 | Once daily1 | With food1 | Ideally, at the same time every day1 |
|   | | | |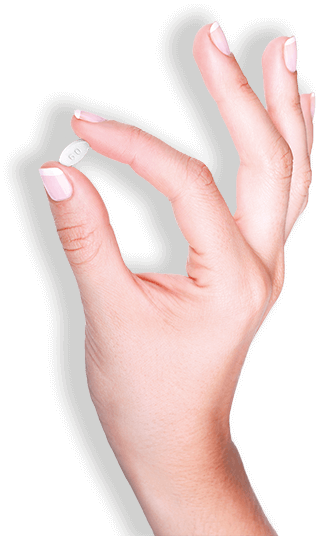 Additional prescribing notes:1
Osphena® should be prescribed for the shortest duration consistent with treatment goals and risks for the individual woman.
Do not use Osphena® in women with severe hepatic impairment.
Please see Full Prescribing Information for a list of contraindications, warnings and precautions.
Osphena Prescribing Information. January 2019.
Data on file. Duchesnay USA Inc.
Simon JA, Altomare C, Cort S, et al. Overall safety of ospemifene in postmenopausal women from placebo-controlled phase 2 and 3 trials. J Women's Health. 2018;27(1):14–23.
Simon JA, Davis SR, Althof SE, et al. Sexual well-being after menopause: an International Menopause Society White Paper. Climacteric. 2018;21(5):415-427.
Archer DF. et al. Efficacy and safety of ospemifene in postmenopausal women with moderate-to-severe vaginal dryness: a phase 3, randomized, double-blind, placebo-controlled, multicenter trial. Menopause. 2019;26(6):611–621.
Constantine G et al. Endometrial safety of ospemifene: results of the Phase 2/3 clinical development program. Menopause. 2015;1(22):36‐43.
Pinkerton JV, Thomas S. J Steroid Biochem Mol Biol. 2014;142:142-154.
Archer DF, Carr BR, Pinkerton JV, et al. Effects of ospemifene on the female reproductive and urinary tracts: translation from preclinical models into clinical evidence. Menopause. 2015;22(7):786–796.
Kingsberg SA, Wysocki S, Magnus L, et al. Vulvar and vaginal atrophy in postmenopausal women: findings from the REVIVE (REal Women's VIews of Treatment Options for Menopausal Vaginal ChangEs) survey. J Sex Med. 2013;10:1790–1799.